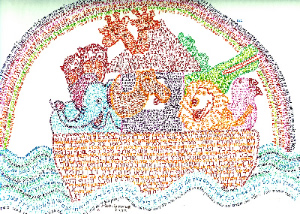 Noah's Ark
SKU Micro106
Product Details
This art piece produced by Jerusalem Artist Ben Baruch, exclusively for this shop, is a whimsical interpetation of the Animals in Noah's Ark.
Each of the verses have been painstakingly produced with variant colours to make this a unique and unusual gift for any child's room or for the Family home.
The rainbow is significant as G-d's covenant with the world and His promise, never to allow for its destruction. It has since become a symbol of hope and harmony.
11 x 14"
Save this product for later