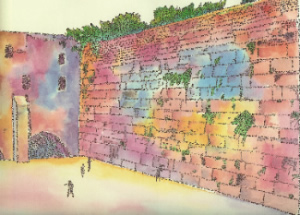 Wall of Praise
SKU Micro105
Product Details
Arye Dov has taken the text of the Book of Psalms and created an image of the Western Wall.
The picture is formed by using the following chapters of Psalms: Psalms 1-50, Psalm 122, & Psalm 150.
Psalm 122 was chosen as it speaks of the return of the exiles unto the rebuilt Jerusalem, a prophecy being revealed today.
Psalm 150 was chosen to frame the picture as it is the final chapter in the Book; "Let everything that has breath praise the L-rd."
11 x 14"
Save this product for later