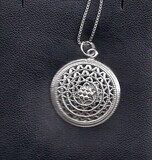 "He is a shield for all who look to Him for protection..." (Samuel II 22:31)
SKU BJ 16
Product Details
"He is a shield for all who look to Him for protection..."
(Samuel II 22:31)
The verse teaches us that Divine protection awaits our turning towards our Father for that protection.
The Magen David , usualy translated as the Star of David, is, more accurately translated as the "Shield of David".
The Magen David is based on the concept of two triangles joining together. One points towards the Heavens and one points downwards to the earth. This is to symbolize the relationship between G-d and man; the essence of Divine protection.
Our Jerusalem Jeweler Boaz created this shield made of tiny Magen Davids to symbolise the multi faceted measures of His protection..all coming together as one powerful shield.
sterling silver (includes sterling silver chain)
price includes shipping
Save this product for later